Florida Palm Trees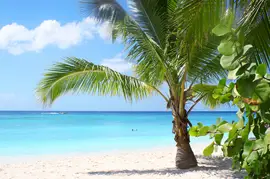 Florida Palm Trees Envirocare4u has great tips, articles, and step-by-step instructions that will help you grow healthy beautiful palm trees. We have about 50 most popular palm trees in our Palm Tree Catalog with detailed description and colorful photos.
There are over 2,500 different palm tree species in the world. Palm trees can be separated into few major types depending on their trunk, leaf structure, growth rate, size, and cold tolerance. Aside from this basic segregation, palms also differ in salt and drought tolerance, leaf color, fruit and flower production. Most of them grow in tropical and subtropical climates, others can tolerate cold temperatures down to -20F. Find out more about different palm tree types.
We all know that palm trees can grow in warm states like Florida, California, Hawaii, Louisiana, Arizona, Texas and etc. But not everybody knows that there are cold hardy palm trees that can grow in states like Georgia, South Carolina, Tennessee, Alabama, Kentucky and much further North.